Recording and Mastering
For 25 Years, Recording, Editing, Mixing and Mastering. Specializing in acoustic music of all types. Located in Berkeley, California near Solano Avenue, MuscleTone Studio is a fully equipped, creative and cost effective place to record projects ranging from demos to CDs. 24 Track Digital Recording, 24 bit, 96kHz, Automated mixing and CD Pre Mastering provide a complete project package. Remember, It never hurts to buy your engineer a latte.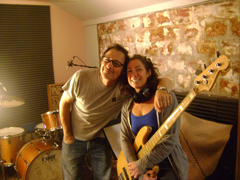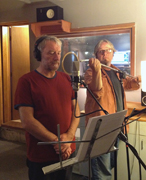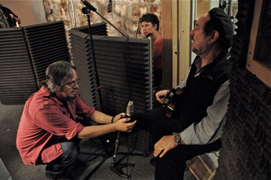 A comfortable place to create and record. Staffed by experienced proffesionals with many years experience. Most of our clients are sad to leave after every session. Others not.
Record your album on high end analog and digital equipment, in a controlled environment using excellent microphones and mic pre amps. Mix down with full automation so you can make all the adjustments you want, take home a CD to listen to for a while and then return to make more changes recalling everything you've done so far. Burn CD's or mp3's for careful reference and later get a Pre Mastered CD ready for CD replication.
We specialize in solo and small, and often live ensemble recordings as well as grown-up rock (not adult rock?). Drums, bass, acoustic or electric guitar. Upright bass, guitar, mandolin etc. Vocals, solos, extra instrumentation can be done later as an overdub. It is possible to record two electric guitars (mic'd amps) at once along with bass and drums. If headphones are needed, each of as many four musicians can listen to a separate mix. Often several takes of a song are recorded and the best sections are edited together to form a keeper set of tracks. Smaller edits within a single take can also correct an otherwise good take.
We are right around the corner from Peet's Coffee, Star Buck's, Zachary's Pizza, Noah's Bagels, Andronico's Market and Delicatessen, Cactus Mexican Food, Ajanta Indian Restraunt and about 100,000 Chinese restaurants.
Since 1988, we've recorded Blues, Celtic, Rock, Jazz, Latin, Brazilian, African, Mexican (Ranchera, Jarocho, Banda), Indian Classical, Reggae, R&B, Country, Folk, Blue Grass, Persian, Farsi, Classical and more....
Here's a zippy testimonial: "MuscleTone combines a refined musician's ear with an experienced engineer's technical know-how. MuscleTone makes extremely high quality production available at an affordable price. For the serious musician on a budget, MuscleTone gets my unequivocal and enthusiastic recommendation." - Maxwell Taylor.